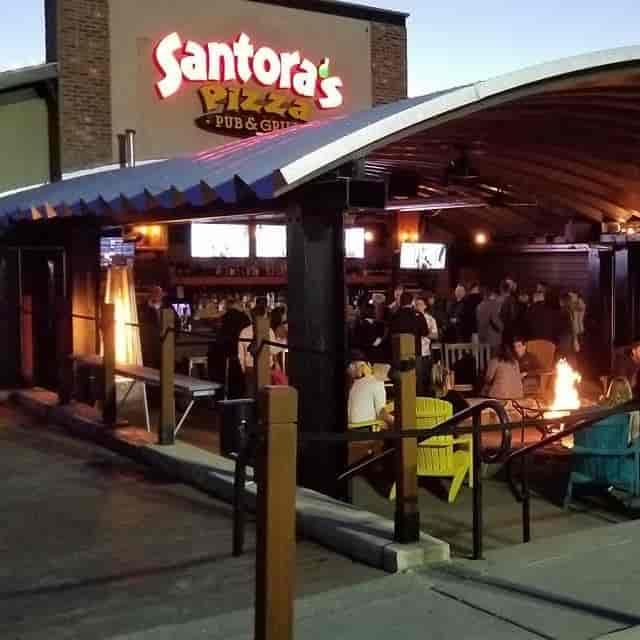 Santoras Pizza Pub & Grill
Established 1927 | Buffalo, NY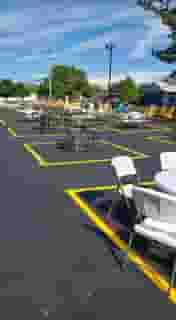 Both of our locations are fully open!
We are currently not taking any reservations at this time. 
We are seating on a first come, first serve basis for both locations. If there is a wait, you will be waiting in your car and you will receive a text when your table is ready. 
At our Transit location only** there is a beer garden area where you can wait and have drinks - must be 21 or older to enter this area!

You must wear a mask while walking through the patio or dining room, once at the table you may take your mask off. With regard to masks, generally the ADA prohibits places of public accommodation having restrictions that would limit access to an individual with a disability. However, the ADA does allow restrictions when an individual would pose a direct threat to the health or safety of others.

There will be no congregating anywhere. 
Thank you for your understanding and patience during this new time for us! 

We are still offering online to go orders!
COVID - 19 UPDATES
Our patios and dining rooms are open for seating! We have take the time to deep clean both restaurants, spread the tables out, and add more cleaning procedures to ensure the health and safety of our guests and employees! Thank you all for your support and understanding during this time. We look forward to serving you once again WNY!

Our hours of operation are as follows at Transit:
Monday - 11:00am - 11:00pm
Tuesday - 11:00am - 11:00pm
Wednesday - 11:00am - 11:00pm
Thursday - 11:00am - 11:00pm
Friday - 11:00am - 12:00am
Saturday - 11:00am - 12:00am
Sunday - 11:00am - 11:00pm

Our hours of operation are as follows for Millersport:
Monday - 11:00am - 10:00pm
Tuesday - 11:00am - 10:00pm
Wednesday - 1:00am - 10:00pm
Thursday - 11:00am - 10:00pm
Friday - 11:00am - 11:00pm
Saturday - 11:00am - 11:00pm
Sunday - 11:00am - 10:00pm

To order food:
Visit us at Santoras.com for online pick up orders - click on the link below highlighted in gold!

For food delivery please visit Doordash or Grubhub!

If all else fails, you can call the restaurant!
How we are staying healthy and safe
Upon arrival, each one of our staff members gets their temperature taken, and answers a health questionnaire that coincides with the symptoms of COVID-19. If any question is answered yes, that staff member is sent home until they are well again. 

Each staff member is required to wear a mask and gloves at all times. Gloves are changed often, and hands are washed when gloves are changed as well. Masks are changed and or washed daily. 


Table tops, counter tops and the like are wiped down frequently with disinfectant wipes on top of our normal cleaning routines. 

Food is handled the least amount possible.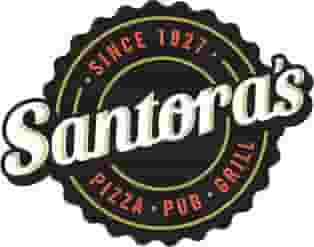 Serving Families in WNY for 93 Years!
Back in 1927, Fioravante Santora was the fist one to sell pizza in Buffalo, NY. He made and peddled ice cream that he and his wife made in his basement. His wife would make pizza from the old country for lunch and everyone that would stop to drop supplies and buy ice cream would be fed her pizza. Thus the idea to sell pizza was started. Fioravante and his sons opened their first restaurant on Seneca Street in downtown Buffalo. All of the 11 brothers and sisters joined the business and over time there were 17 pizza and wing locations throughout WNY. As time passed, most of the pizzerias went out of business or closed, all except the youngest of the 3rd generation. Today four generations strong, with the development of Santora's Pizza Pub & Grill, our tradition and family values are stronger than ever in WNY. We are proud to be a big part of this thriving Buffalo area and to support many organizations and college athletics. We want to thank you and the many before you for keeping our family in your hearts for over 90 years. 

We have taken the idea that the Santora family was the first, original marketed pizza in Buffalo, NY in 1927 and have decided to develop a beer brand that is named after such an amzing part of local history. Our 1927 brand of beer that will soon be produced in house by 2 separate breweries, one at each of the Santora's Pizza Pub & Grill locations. Our house brew is made with the same love, history and passion that has made us who we are today.

Everyone in Buffalo, NY, knows that one of best sports bars in town is Santora's Pizza Pub & Grill. The Transit Road location features 42 different taps to enjoy while you watch the game on one of the 110-inch TVs studded throughout the restaurant, and while the Millersport restaurant is smaller, their 24 beers on tap are just as delicious and their 18 high-definition TVs offer just as good a view of the game. The pizza and wings keep coming all night while you enjoy the performance of the Bills, Sabres or any other NHL, NFL, or college team.

Not only is Santora's Pizza Pub & Grill a great sports bar, it's also an excellent place to celebrate with your youth sports team! Santora's offers competitive sports team packages featuring all of the pizza your team can eat. Your young athletes will love our casual dining atmosphere and their parents will thank you for taking them to such a family-friendly place.